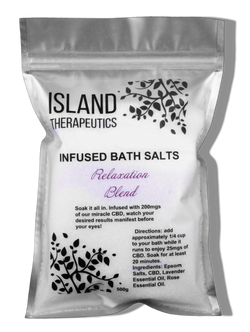 Island Therapeutics
Island Therapeutics Bath Salts
Island Therapeutics invites you to indulge in self love and relaxation as a part of your healthy lifestyle with our CBD Infused Bath Salts. Artisan created in small batches to ensure the highest quality. We've blended CBD with magnesium rich epsom salts and infused them with essential oils. 
Relaxation Blend - With CBD, Lavender and Rose Essential Oil
The relaxation blend includes the magic of soothing lavender paired with the rare, uplifting rose essential oils. This blend will leave you melting into relaxation while the aroma emotionally uplifts and releases anxiety and feelings of tension. Benefits to adding this to your bath-time routine includes not only full  body relaxation, resulting in a better sleep, but additionally a soothing and healing effect to your skin.